Old Places, Familiar Places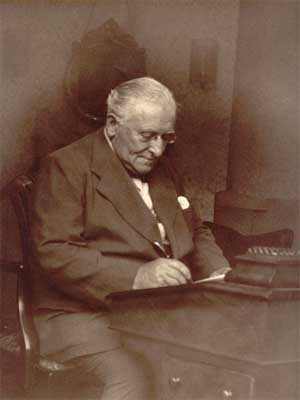 Albert Ketèlbey displayed a talent for music at a young age, and by his teens was composing classical pieces. He attended Trinity College of Music in Oxford, beating out Gustav Holst in a scholarship competition. Although he achieved some critical recognition for his choral and chamber works, his greatest success was in descriptive pieces, much along the lines of Delius's "In the Fens," but with much more exotic subjects. His "In a Persian Market," "In a Chinese Temple Garden," and "In a Monastery Garden" were very popular with theater orchestras and in sheet music form. Although this type of music is now out of style, it was well considered at the time--Ketelby was in some ways the last of a line that included Johann Strauss and Franz Lehar.
Albert William Ketèlbey was born in Alma Street, Aston Manor, Birmingham, on 9 August, 1875, the son of George Ketelbey [no accent],a teacher at the Vittoria School of Art, and Sarah Aston. At the age of eleven he wrote a piano sonata that won praise from
Edward Elgar
. Ketèlbey attended the Trinity College of Music in London, where he showed his talent for playing various orchestral instruments reflected in the masterfully colourful orchestration, especally of oriental inspiration, that became his trademark, and beat the runner-up,
Gustav Holst
, for a musical scholarship. He used the pseudonyms Raoul Clifford and Anton Vodorinksi for some of his earlier works (some reference books mistakenly give Vodorinski as his true name and Ketèlbey as the pseudonym). His name is frequently misspelt
Ketelby
.
Being appointed musical director of London's Vaudeville Theatre, he continued writing diverse vocal and instrumental music. Later, he became famous for composing lightweight, popular music, much of which was used as accompaniments to silent films, and as mood music at tea dances. Success enabled him to relinquish his London appointments
Once, whilst conducting a programme of his own music at a Royal Command Performance, Ketèlbey gave a second rendering of the State Procession Movement of his Cockney Suite during the interval, at the request of King George V, who had arrived too late to hear it performed at the beginning of the programme.
He was active in several other fields including being music editor to some well-known publishing houses and for some years Musical Director of the Columbia Gramophone Company.
He died at his home, Egypt Hill, in Cowes, on 26 November 1959, where he had moved to in order to concentrate on writing and his hobby of playing billiards.

This website is being developed
to bring together a reference
point for all admirers of this
great composer's music.
performed by the Peerless Orchestra
and male chorus. From an Edison
Phonograph recorded in 1921.